NEW YORK (AFP) - Legendary jazz percussionist and composer Max Roach, whose pioneering drumming helped shape the bebop style during the 1940s, has died in New York at the age of 83, his record label said Thursday.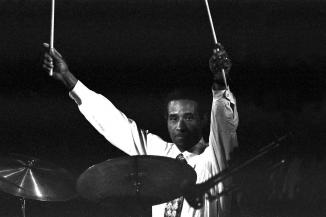 Roach passed away peacefully in his sleep at his home, record label Verve, with whom Roach recorded some of his most successful albums, said in a brief statement paying tribute to the jazz great.
"All of us at the Verve Music Group mourn his passing, and extend our condolences to his loved ones," it said.
"In addition to his remarkable career in music, Max Roach was a passionate civil rights activist and advocate for social change," it added.
Blue Note Records, another label that Roach worked with, said it was saddened by the death of a man it described as "an unmistakable force on numerous classic recordings."
"Along with drummer Kenny Clarke, Roach redefined the role of the drums in jazz during the bebop revolution of the late 1940s and early 50s," it said.
Roach released only one album as band leader with Blue Note, but appeared on such seminal works as Miles Davis's "Birth of the Cool" and Duke Ellington's "Monkey Jungle," as well as Charlie Parker's 1940s Savoy sessions.
Born in North Carolina in 1924, Roach began his career when not even a teenager playing drums in Brooklyn, New York, for gospel groups. He later studied at the Manhattan School of Music.
He went on to play with some of the biggest names in jazz, notably appearing alongside pianist Thelonious Monk, tenor saxophonist Coleman Hawkins and trumpeter Dizzy Gillespie during a career spanning six decades.
It was while working with trumpeter Clifford Brown in the mid-1950s that he helped carve out a new style that became known as hard bop.
Brown's death in a car accident in 1956 sent Roach into depression and alcohol abuse, but he bounced back in the 1960s, appearing on some of the finest jazz recordings of the period.
It was during this time that he released the 1960 album "We Insist! Freedom Now Suite," which addressed slavery and racism in America. It was perhaps his best remembered contribution to the civil rights movement.
As well as his ensemble work, he also performed as a solo percussionist and composed music for Broadway musicals, movies and television.
Explaining his career to the New York Times in 1990, he said: "You can't write the same book twice. Though I've been in historic musical situations, I can't go back and do that again. And though I run into artistic crises, they keep my life interesting."