LAST LINKS / LES DERNIERS LIENS
NOTE: When you see*, this éditing movie on the web was made by TOSTUD according own archives (R.A)

:: VENTE EXCEPTIONNELLE -EXTRAORDINARY SALE ::

VOL DE SAXOPHONES A PARIS/ STOLEN SAXOPHONES IN PARIS

SYMPHONIC YOUTH SALSA IN VENEZUELA
∑

Michael BRECKER & MC coy TYNER


surprising!

Giants steps scroll
Great concert with Rahsaan Roland Kirk at his best.

NEW: TOSTUD GUEST BOOK IS OPEN......ENJOY :o)

For sale in FRANCE Selmer alto sax MVI N° 106XXX gold plated
THE MOST BIGGEST SAXOPHONE STORE ( U.K)
Tenor saxophonist Michael Brecker dies at age 57 in New York City
STEVIE WONDER on French TV show

NEW: MORE VIDEOS FROM TO STUD AND FAVORITES, ON YOU TUBE

VOL DE SAXOPHONES A PARIS (SEPTEMBRE 06)
http://www.jazz-on-line.com (Free : Choose and listen to the "old jazz "artists with RealOne)

Franck ZAPPA/john BELUSHI ( as a samouraï)
John Coltrane - Blue Waltz 1965
PAT METHENY and Metropole Orchestra - Live at Northsea Jazz festival 2003
Roland KIRK
(R.KIRK quartet in PRAGUE 1967)
Trumpet Kings
a video collection of famous trumpet players (for educational purposes only)

*John Coltrane and Stan Getz - JATP Tour 1960.Live in Dusseldorf, Germany, 28/03/60.
This is the only documented performance by Trane and Getz together!
(A very fun view in the beginning, Oscar PETERSON change hard with Wynton KELLY at the piano ) ..
with John Coltrane: ts - Stan Getz: ts - Wynton Kelly- Oscar Peterson: p, Paul Chambers: bass, and Jimmy Cobb:drs


Vol d'un saxophone SELMER REFERENCE en FRANCE ( Mont de marsan)
Vol d'un saxophone baryton KEILWERTH en SUISSE (Montreux)

Julien LOUREAU (live amiens jazz festival 29/03/02)

Vol d'instruments sur BORDEAUX


*MICHAEL BRECKER BAND ( Live at" Under the Sky FESTIVAL"/ JAPAN 1989)
with :
Jeff ANDREWS (b), Michaël BRECKER (ewi), Joey CALDERAZZO (kbs) , Airto MOREIRA ( perc), Adam NUSSBAUM (drs), Mike STERN (guit).
GOSSIP (7'34-ram)

Weather REPORT ( teen town Midnight spécial 1977)-44,2Mo-

The jazz guitar pages( from charlie Christian to pat Metheny)


*John COLTRANE quartet LIVE in COMBLAIN-la-TOUR (BELGIUM) 01/08/1965.
John COLTRANE (ts,ss), Jimmy GARRISON (cb), Elvin JONES (drs), Mc coy TYNER (p)
Vigil (4 '42 ram)

*Franck ZAPPA in August 1974 *****
Approximate (4'44-ram)
George DUKE (kbs), Napoléon MURPHY BROCK (ts, fl)Tom FOWLER (b), Chester THOMPSON (drs), Ruth UNDERWOOD (perc)

Jaco PASTORIUS (discography, vidéography, compositions.....)



HISTORY OF JAZZ before 1930 ( THE RED HOT JAZZ ARCHIVE)


Charlie CHRISTIAN - jazz guitar solos transcriptions

Pour joindre par lien: un fichier, une image, une photo .
Jusqu'à 250 ko .
Jusqu'à 1 Go



*BILLIE HOLIDAY (8/12/1957 on CBS TV show) -from Gus-
with All Stars:
Roy Eldridge (tp), Vic Dickenson (tb), Lester Young, Ben Webster, Coleman Hawkins (ts), Mal Waldron (p)
Gerry Mulligan (bari ), Danny Barker (g), Milt Hinton (b), Osie Johnson (d), Billie Holiday (v)
Fine and Mellow (7'39-ram)



* Wes MONTGOMERY IN BELGIUM 1965 (from Gus)
Aurther HARPER (b), Harold MABERN (p), Wes MONTGOMERY (guit), Jimmy LOVELACE (drs)
Impressions (3'40-ram)


*Charlie MINGUS IN OSLO 12 april 1964 (from Gus)
Johnny COLES (trp), Eric DOLPHY ( as, fl, bcl), Clifford JORDAN (ts), Jaki BYARD (p), Charlie MINGUS (b), Dannie RICHMOND(drs)
So long ERIC ( part one) (12'30-ram) So long ERIC ( part one)(10'02-ram)
The video comments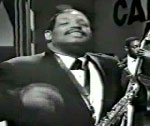 *Cannonball ADDERLEY sextet in Baden-Baden 21/3/1963 (30'17 total time-ram)
Nat & Cannonball ADDERLEY, Yusef LATEEF, Joe ZAWINUL, Louis HAYES , Sam JONES
Jessica's Birthday (6 '17), Présentation (2 '25), Brother John Part 1 (6 '22),
Brother John Part 2 (4 '21), Yusef LATEEF interview (3'19), Jive Samba (7'33)
VIDEOS ARCHIVES of The CHARLIE PARKER SOCIETY OF JAPAN with:
SUPERSAX, Jackie Mac LEAN, Perter KING ... (From Gilles MITON)
From Charlie PARKER society of JAPAN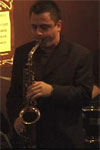 Pierrik PEDRON (12/2000 PARIS)


Miles Davis interview
14th November 1986.


Bird feathers (for AS)
(Charlie PARKER/ relevé: P. THOUVENIN)

Franck ZAPPA
DISCOGRAPHY | SONGLIST | CHRONOLOGY | VIDEOGRAPHY | COVERS

Jazz Trombone history

Barney WILEN

A great day in HARLEM
The Harlem 1958 jazz portrait is used with the generous permission of the Art Kane Archives.


Jazz Profiles from NPR (selected audio clips of show interviews by greats musicians)



Demis VISVIKIS
A great pianist and composer
Searching the Internet for a Certain MIDI File





Trumpet stuff
Videos clips, audio extracts, pictures, links, and of some of the best trumpet players ever known.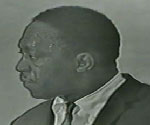 *Art BLACKEY & The JAZZ MESSENGERS in SAN REMO 1963
Wayne SHORTER, Freddie HUBBARD, Curtis FULLER, CEDAR WALTON, Reggie WORKMAN
Présentation , Children of the night Part 1 , Children of the night Part 2
Bob MINTZER big band (Live 7/2/04)


*THELONIOUS MONK 1963 (13'06 total time)
Frankie DUNLOP, John OSS, Charlie ROUSE
Bye-Bye when the morning comes / Round' about midnight ,
Criss-cross, Off minor



Mort de Jimmy SMITH (08/02/05)

John COLTRANE photos galerie
Michael BRECKER LIVE tapetrade
Michaël CHERET (French saxophonist)
Leïla OLIVESI (French pianist)






Norman GRANZ' Jazz At The Philharmonic